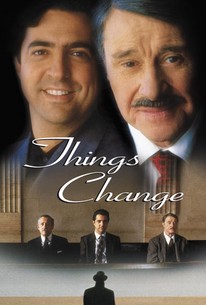 As some of my readers can attest, I host a bi-monthly event at a local bookstore titled, "Cinema and Conversation."  After viewing the film, we discuss the central theme and how it is developed as the movie unfolds.  Last Friday, I selected a 1988 production Things Change, starring Don Ameche and Joe Mantegna with an original screenplay by David Mamet and Shel Silverstein (a truly odd couple).  Described by Roger Ebert "as the joining of menace and comedy," the film tells the story of Gino (Ameche), an Italian shoe repair shop owner who is recruited by the mafia to take the fall for one of their own who is suspected of a murder.  In return for serving an anticipated three years in prison, the mob boss offers to fulfill his dream of retiring to Sicily and owning a fishing boat.
Between the time of the agreement and Gino's court appearance at which he will plead guilty to "shooting the son of the bitch," he is placed in the care of Jerry (Mantegna), a less than successful mob operative who is "on probation."  Rather than spending three days in a hotel room in Chicago, Jerry takes Gino to Lake Tahoe for one last fling before his pending incarceration.
When I woke up this morning, I started thinking about a parody in which Jerry is portrayed by Michael Cohen.  Until I realized I had cast the former Trump consigliere in the wrong role.  In less than two hours, Michael Cohen will be testifying before the House Oversight Committee before, like Gino, heading to prison for the same three years (another synchronistic marker).
SPOILER ALERT: The following analysis of parallels between Gino and Michael require my sharing key moments in the film.
A seminal moment occurs very early in the movie.  At first Gino declines the offer until the Chicago don's girlfriend Miss Bates rejects his offer to light her cigarette.  Believing he has no value to these people or maybe anyone, he changes his mind.  "I'll do it."  Which brings me to Michael.  After many years of blind  loyalty to Donald Trump, including criminal activity in support of his boss' personal, business and political goals, Michael fully expected to be rewarded for his service.  His fishing boat was an office in the West Wing of the White House, a dream that never materialized.
There's a reason they call it blind loyalty.  One's ability to see virtually disappears.  Even after Trump jettisoned Michael for a whole new team of hangers-on, Cohen was still willing to lie to protect his employer.  In Things Change, Jerry warns Gino that his faith in the Chicago don is misplaced and urges him to run.  One can only imagine Michael shares Gino's rationale for sticking to the agreement. "We had a deal.  I gave them my word."  Honor among thieves.
The other thing that changes over the course of their performances is the power relationship between Jerry and Gino.  Jerry constantly reminds Gino he is the boss.  He has made the Tahoe adventure possible.  He is in charge.  However, Jerry wrongly assumes his authority is based on position or title which he uses to conduct transactions.  Meanwhile, Gino accumulates power through the formation of new friendships.  And when he and Jerry face the most dire of situations, Gino decides it is time to draw on these intangibles.  Just when Jerry determines his life may be over, Gino calmly tells him, "I'm gonna make a phone call."
Michael Cohen, in an interview with Vanity Fair's Emily Jane Fox, said he would take a bullet for Donald Trump.  In this remake of the 1988 version of Things Change, Jerry (now played by Trump) still sees the world as a series of transactions, which once completed have no residual obligation.  In the meantime, Gino (Michael) realizes his deal was one-sided and begins establishing new friendships.  And just as in the original, the new Gino decides, "I'm gonna make a phone call."
In 15 minutes, things may change dramatically.
For what it's worth.
Dr. ESP