If there's one thing the Trumpist GOP understands, it is the simple truth the size of a victory does not matter.  The only statistic on the political score card that counts is the number of wins.  I know, Donald Trump bristles at the fact he lost the popular vote by three million ballots, the victim of non-existent fraudulent votes.  Yet, he and his campaign strategists are more than willing to rely on a similar "inside straight" approach carrying the day again this November.  Betsy DeVos was the first cabinet member in U.S. history to be confirmed when a vice president (MIke Pence) had to cast the tie-breaking vote.  Do you think the advocates of federal funding for private and parochial schools care?  They got their gal; that is all that matters.
Fortunately, there is one other person who shares that perspective.  JOE BIDEN, as evidenced in an article by Jonathan Martin in Saturday's edition of the New York Times.  "Georgia. Ohio. Texas. Democrats Tell Biden to Go Big (He's Being Cautious)."  On paper, the rationale for a big win, as Martin reports, seems to make sense.
In a series of phone calls, Democratic lawmakers and party officials have lobbied Mr. Biden and his top aides to seize what they believe could be a singular opportunity not only to defeat Mr. Trump but to rout him and discredit what they believe is his dangerous style of racial demagogy.
According to Biden, this election is "a fight for the soul of America." Consistent with that message, proponents of adding target states to the electoral college map argue this is the chance to send a clear message there are no geographic borders when it comes to rejecting Trump personally and Trumpism in general.  They are half right.  This may be a once in a generation opportunity to demonstrate it does make a difference which party best represents the interests of a majority of Americans.
However, the best indication of that outcome rests not with the number of electoral votes Biden accrues as long as it not less than 271.  A better measure of success is the size of the Democratic majority in the U.S. Senate on January 3, 2021, especially if it includes new faces from formerly reliable red states.  To achieve that goal in November, the less time Biden spends in states like Georgia the better.  Consider the following polling averages in states Trump carried in 2016 when it comes to the Senate races.
Arizona/Democrat Mark Kelly leads incumbent Republican Martha McSally by 6.8 percentage points while Biden holds a 2.8 point lead over Trump
Georgia/Democrat Jon Ossoff is within five points of Republican David Perdue as Trump's once insurmountable lead is down to 3.0 points.
Iowa/Democratic challenger Theresa Greenfield holds a one point lead over incumbent Republican Joni Ernst.  Trump still has a slim 1.5 percent advantage over Biden.
Montana/Although there has been little public polling, internal polls suggest for Democratic governor Mike Bullock has an even chance of flipping a seat now held by Republican Steve Daines.
North Carolina/Democratic challenger Cal Cunningham holds a 3.7 point lead over Republican incumbent Tom Tillis slightly above Biden's 3.3 point advantage over Trump
In addition to these five competitive Senate races, low approval ratings for South Carolina Senator Lindsey Graham and Majority Leader Mitch McConnell give Democratic challengers an outside chance of flipping these seats despite Trump's being the odds-on favorite to handily win the states' electoral votes.
Does anyone really believe the fate of any of the above Democrats will win the hearts and minds of 2016 Trump supporters because Joe Biden needs them to push through his legislative agenda?  A better winning argument is how the incumbents have put defense of Donald Trump above the interests of their own constituents.  And each challenger's prospects are boosted by ads from anti-Trump Republican PACs such as the ones targeting Ernst and McSally by The Lincoln Project.  Biden's hopes for an upset in any of these states may ultimately depend on the reverse coattails of popular Democratic candidates down the ballot.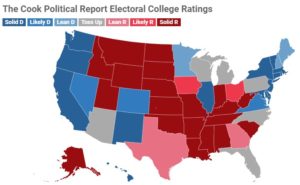 The exception is Florida where the Real Clear Politics (RPC) polling average gives Biden a 5.2 point lead over Trump and neither Senate seat is up for grabs.  The FiveThirtyEight Florida polling average shows a 6.2 point edge for Biden due largely to increasing dissatisfaction with Trump among older voters due to his handling of the coronavirus, Cuban-Americans over his immigration policies and suburban women, all essential elements of Trump's 1.2 percent win in 2016.  Equally important, if Biden carries Florida, he will need only one more of the five other battleground states–Arizona, Michigan, North Carolina, Pennsylvania and Wisconsin–to reach the 271 magic number.  The RCP average shows Trump ahead in all five as of July 7.
Not that you need it, but if you want one more reason to support Joe Biden in November, unlike the incumbent, the challenger is demonstrating he understands the importance of studying history.  He is determined not to make the same mistake the Clinton campaign made in 2016, spending time and resources in search of a big win, while ignoring traditional supporters in the MidWest based on the false assumption they will always be there for you.
A senate majority and 271 electoral votes trumps (pun intended) 400+ electoral votes every time.  As Jean Luc Picard would say, "Make it so, Joe!"
For what it's worth.
Dr. ESP