My head is spinning.  Why?  Because there is a story to tell and there are so many ways to approach it, I have no idea which path is the best to take.  So forgive me if this post seems somewhat disjointed.
The working title for this article was originally, "The Wrong Analogy."  It was triggered by the constant comparison by journalists and pundits of the Trump experience to that of Richard Nixon.  Even Hillary Clinton took the opportunity during her commencement address at Wellesley College to remind graduates of the coincidence of her twice speaking on the same stage, as student and now alumna, at the outset of two administrations hurtling towards a disastrous conclusion.  (I can hear Carl Jung whispering, "Synchronicity strikes again!")
Putting aside Trump's possible charges of obstruction of justice or worse, I cannot help but wonder if a better analogy for the disarray on Pennsylvania Avenue is the presidency of Jimmy Carter (1977-1981).  When the former peanut farmer turned Georgia governor announced his candidacy on December 12, 1974,  a full two years before the election, it too was considered a joke.  As late as January 1976, Carter was the choice for the party's presidential nomination of only four percent of registered Democrats.  However, as documented in Jules Witcover's excellent recounting of the 1976 election–Marathon: The Pursuit of the Presidency 1972-1976–Carter beat the odds and took office on January 20, 1977.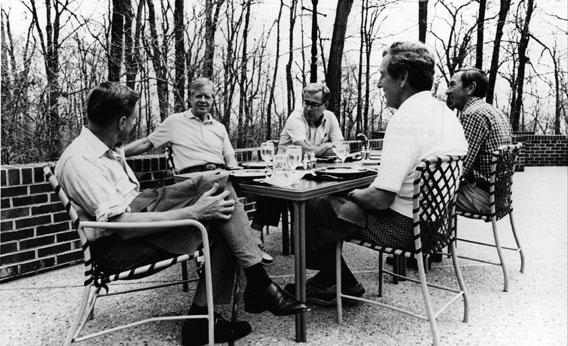 Although Carter had both political and military experience, having graduated 60th out of a class of 820 from the U.S. Naval Academy, the new president was also viewed as a Washington outsider.  His peers had little confidence in his leadership ability as noted by his failed attempt to garner support to serve as chairman of the National Governors Association in 1972.  And like Trump, he surrounded himself with a cadre of very close friends and associates who were tagged "the Georgia mafia."  For example, Carter picked Griffin Bell, someone who grew up in Americus, Georgia, 10 miles away from the president's home town of Plains.   And many of his closest advisers, such as Hamilton Jordan and Jody Powell, were holdovers from the campaign staff (sound familiar?).  The most documented of Carter's ill-advised personnel decisions (including an article in the October 2008 Harvard Business Review titled, "Jimmy Carter's Biggest Management Mistake") was when he selected Frank Moore, his legislative coordinator in Georgia, to serve the same role in Washington.
It did not end well.   On July 18, 1979,  all 13 cabinet members and 18 of Carter's personal assistants submitted their resignations, giving the President an opportunity to completely reshape his team.  Despite the shake-up, Carter lost re-election in 1980 by a landslide to Ronald Reagan.
But that's not what I came here to talk about.  The idea for the subject of today's tweet "Sir, You Are No Bo Jackson" came to me while reading Harold Guskin's book How to Stop Acting: A Renown Acting Coach Shares His Revolutionary Approach to Landing Roles, Developing Them and Keeping Them Alive.  His advice to clients when approaching an audition is to surprise the casting director, give them something they do not expect.
Easier said than done.  Just ask Michael Jordan.  After nine years of being the best player in the National Basketball Association, Jordan tried his hand at professional baseball.  After the 1994 season with the Double-A Birmingham Barons, in which he batted .202 with three home runs and 11 errors, Jordan hung up his mitt and returned to the Chicago Bulls.  It is the rare individual who can shift careers in mid-stream and succeed at the highest level in both.
Two examples come to mind.  In sports, the ultimate two-sport success was Vincent Edward "Bo" Jackson.  He is the only player ever to be named to the all-star teams in both Major League Baseball and the National Football League.  Sadly, Jackson's career was cut short as the result of a hip injury during an NFL playoff game in January 1991.
The second is the"over-rated" Meryl Streep.  From 1977 to 1988, she was every casting director's actor of choice for the most demanding dramatic female leads in movies such as The Deerhunter, Kramer vs. Kramer, Sophie's Choice, Silkwood, Out of Africa, Ironweed and A Cry in the Dark.  When New York Times film critic Pauline Kael complained Streep "needs to
giggle more and suffer less," her response was to go against type with four straight comedic performances–She Devil, Postcards form the Edge, Defending Your Life and Death Becomes Her.  In December 2006, Nina Easton of the Los Angeles Times described Streep's transformation as follows.
Whether her motives come from an inner drive, or are the result of the air quality around her, Streep–for now at least–is adding a new chapter to her career. She has turned the page on Lindy Chamberlain, the persecuted Australian mother in "Cry in the Dark"; on Helen, the ragged transient in "Ironweed"; on the death camp survivor Sophie in "Sophie's Choice"; on Baroness Karen Blixen in "Out of Africa"; on Joanna Kramer, the conflicted mother in "Kramer v. Kramer."
Jimmy Carter could not turn that page.  Nor to date has Comrade Trump.  And among all the things His Orangeness declares "are much harder than anyone thought," this has proven to be the most difficult so far.
Wednesday Morning Transcript
Republican hypocrisy just shifted into warp drive.  Consider the following comments from Arizona Republican Congressman Trent Franks.  In response to a question about Russian hacking during the 2016 election, Franks replied:
But the bottom line, if they succeeded – if Russia succeeded – in giving the American people information that was accurate, then they merely did what the media should have done. (Source: MSNBC, December 29, 2016)
Compare that to his denunciation of sources who are providing inside information about the Trump/Russia connection and White House dysfunction.
These incessant leaks are becoming so pernicious and corrosive to the success of government and the public's ability to trust in it. The leaks are becoming more dangerous than the substance of what is being leaked. (Source: The Hill, May 26, 2017)
Waitress, can I have a side order of a "hill of beans" to go along with these Franks?  And make it a big one, a REALLY big one.
For what it's worth.
Dr. ESP